Learn German Online - For English speakers, A1-C2
Learn German online – Individual course formats for your need!
Would you like to learn German online for work or improve your German for everyday life with an online language course? Our language school offers a wide range of course formats for all levels A1-C2, including conversation lessons, writing and style training, as well as exam and presentation preparation for professionals, the self-employed and students.
Our online German courses are ideal for people who, because of their work or other reasons, cannot attend a language school, but still want to learn German at a professional level.
100% certified teachers in all our German online courses!
All German teachers at our language school are trained language teachers and specialized in teaching standard German with clear diction. In our German online courses, we use the right methods for beginners and advanced learners. We also offer you a language course for academic German at C2 level, as well as a job-related online German course for trade and industry.
If you would like to learn German online in private lessons, it goes without saying that you want a teacher who is a German native speaker. That is exactly what you get when choosing an online German course with us!
Our German courses online (via Skype) are conducted with a lot of creativity, humor and interaction, paired with a high level of media competence! We select the most suitable German teacher from our team for you!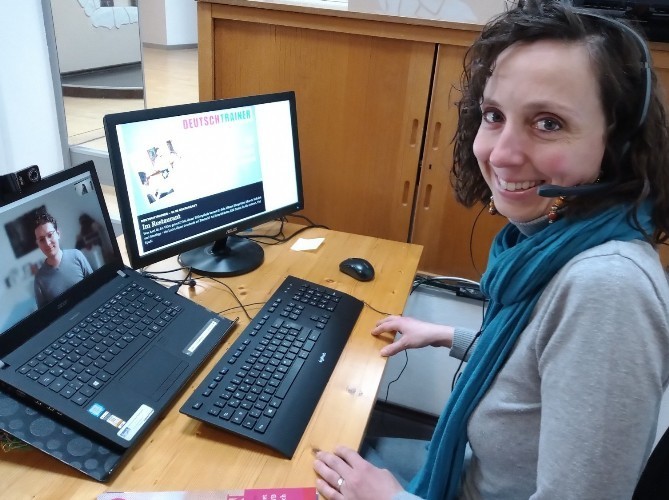 "As language educators, we are your competent contact for online language courses!" – P. Leeck
Learn German online – Great success with many advantages!
Private online lessons are a very effective and flexible way to learn German. You determine the content, the pace, the frequency and, of course, when the appointments take place.
Your advantages at one glace:

Learn German online, via Skype – that's 100% communicative!


Choose a day and time convenient for you – can be adjusted!


One-on-one activity – your choice of content at your pace!


More than 20 certified German teachers – learning with professionals!


Our school management – personal contact, no anonymity!
Even if the lesson cannot take place, you won't miss a thing! We combine the online German course with innovative didactic modules that you can work on at a time convenient for you:

Our experience is your gain!
Our customers who have booked online German courses include private individuals, self-employed people, freelancers, academics, small and medium-sized companies, associations and scientific institutes.
No matter whether you are an engineer from India, an IT specialist from Taiwan, a skilled worker from the U.S.A. or a nurse from Romania. As an online language school, we offer private lessons for a wide variety of professions.

Get your online German course in 3 easy steps!
German online courses – We grant discounts up to 15%!
Depending on whether you want to learn German online because you just want to give it a try or you want to learn intensively and/or weekly - the language courses online via Skype are tailored to your needs. Here are some examples of how to plan a language course online via Skype:
German course 10 units
A weekly appointment, suitable for students with little time.
€41,50 / unit
German course 20 units
One to two weekly appointments, suitable for advanced and beginners.
€38,50 / unit
German course 40 units
One to two weekly appointments, suitable for beginners with little previous knowledge.
€37,50 / unit
German course 60 units
1 x 2 or 2 x 1 units per week, suitable for determined learners.
€36,50 / unit

The units amount to 45 minutes, according to the German system. If you want to cover several levels A1-C2 within the scope of your language course, it is also possible for two to learn together and to share the costs!
No additional costs. The material/processing fee of 35 euros, which we normally charge, does not apply when you register online, right here on this page!
Online German courses with trial date
Interested students who book language classes on this page are contacted by us within a few hours to verify the supplied information. As a rule, lessons can be started within a few days. Bookings for our language courses online will take effect after the 1st appointment, provided, you liked it. If you do not continue the class after the 1st appointment, only this will be paid.
For any clarifications you may call us at 0202-3726637 or write us an email at office@linguedu.de – We will answer quickly, for you to start learning German online very soon!
Assessment tests
After having signed up for a German course, please come to school, or contact us by phone for a short assessment. You can also test your German skills online.
Our staff
...native speakers, professionals and always up to date
We are a team of professional German language teachers, always up to date with methodology and current developments in foreign language teaching.
If you want to learn German online, choose the best – choose us!
You might also be interested in:
Here our students' feedback!
"I am looking forward to start the new course! It's funny and helpful to learn with you."
Roberta, B2 German classes, May 2018
"The teacher is very professional, she always prepares the lesson in advance and she adapted to my needs."
Angelo, C1 evening course, April 2017
Learn German online – German courses for all levels (A1–C2)
Regardless of whether you want to learn German online as an employee or as a self-employed person, as an expat, a teacher, researcher or engineer, our online language lessons offer the right course for everyone. German learners can take a German course online for beginners without fear of being overwhelmed. For every course A1-C2 we offer a variety of exercises for all skills (listening, speaking, reading, writing).
Many textbook publishers have offers on their website with which you can support your online German course and learn German online by yourself and, above all, free of charge (e.g. Hueber, Klett). You can also use Deutsche Welle and grammar and vocabulary websites (e.g. lingolia).
For any questions, you may call us at 0202-3726637 or write us an email at office@linguedu.de – You will be able to start your German course online very soon!